Dental Veneers
The team at Sunnybank Plaza Dental is here to transform your smile into a look that you're proud to show off. Dental veneers may be the ideal solution if you're dissatisfied with the appearance of your teeth. We think everyone deserves to have the look and function of their teeth restored. With dental veneers, you can change the shape, colour or size of your teeth, eliminating imperfections and giving you a natural look.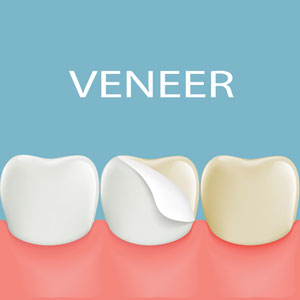 Veneers are recommended for teeth that are:
Broken
Chipped
Crooked
Gapped
Misaligned
Stained or discoloured
Frequently Asked Questions
Which materials are used to make veneers?
Veneers can be created from composite resin or porcelain. Porcelain veneers may last longer because it's a stronger material, though they are costlier than composite. If you want the best possible look, porcelain is likely your best choice.
What is the process of getting veneers?
We'll spread the procedure for veneers out over a few appointments so that you end up with precise, customised veneers that meet your goals. At an initial consultation, we'll assess your teeth and determine if veneers are right for you.
If you've chosen porcelain, your teeth will be prepared to receive your new veneers and impressions taken to fabricate them in the laboratory. You'll receive a temporary set to wear meanwhile. Finally, you'll have your permanent veneers cemented into place.
If you receive composite veneers, they can be applied to your teeth, layer by layer, in one appointment.
What is the cost involved in getting veneers?
The materials used and the individual circumstances of your case will determine the cost of your veneers. At your initial consultation, we'll evaluate your teeth and identify the proper plan for your veneers. You'll have the exact costs given to you, and we'll discuss payment options with you, too.
How do you look after veneers?
Your veneers can become stained from coffee, tea and smoking, just as natural teeth would. You should avoid chewing ice or hard foods, which may chip or fracture your veneers. Be sure to brush, floss and visit your dentist regularly so that they can last for many years.
Restore Your Smile
Are you ready to show off a dazzling smile? Contact us today to learn more about veneers Sunnybank or to book your consultation! Saturday and same-day appointments are available.
CONTACT US
* Any surgical or invasive procedure carries risks. Before proceeding, you should seek a second opinion from an appropriately qualified health practitioner.


Dental Veneers Sunnybank, MacGregor, Eight Mile Plains, Robertson, Sunnybank Hills QLD | (07) 3344 6282