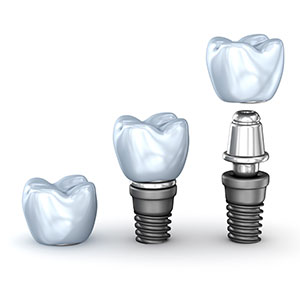 Dental Implants
Do you have missing teeth? The team at Sunnybank Plaza Dental offer a great alternative to consider for your smile reconstruction. Compared to options like fixed bridges or removable dentures, an implant is less invasive and healthier for your smile.
Since implants rest adjacent to your existing teeth, they help to stabilise your natural bite, support your facial profile and maintain tooth alignment. Plus, they're able to support a variety of restorations, making it possible to replace one tooth or all of them.
3D Guided Surgery
Sunnybank Plaza Dental is proud to provide the added benefit of computerised 3D guided implant surgery. Compared to traditional implant placements that use two-dimensional X-rays, 3D placement allows for better accuracy and expanded options for our patients.
When your dental implants are placed digitally and have a custom 3D surgical guide, you can enjoy
More efficient surgery
Fewer appointments
No sutures
Faster recovery and healing
Minimal discomfort
Ideal for non-traditional patients
Additionally, some of our patients are able to view a pre-planned digital image of their new smile (and customised crowns) before the date of their implant surgery! Everything is done digitally and visible to preview before your procedure is even scheduled.
Non-Invasive to Your Smile
Dental implants are unique because they're shaped to mimic a natural tooth. As your bone integrates with them, the implant itself becomes a permanent part of your bite. Plus, there's no need to alter the shape of their neighbours. Any teeth that you're able to retain can be preserved.
Implants are stronger than healthy teeth, making it possible to support larger multi-tooth restorations over them. For instance, we can use a pair of implants to anchor a 3-4 tooth bridge. This feature eliminates the need for removable partials and makes it possible to replace more teeth than what you could with traditional bridge design.
There's no need to have an implant for each tooth that's missing. For situations involving full mouth reconstruction, we can stabilise an upper or lower denture onto as few as four implants.
What to Expect
During your consultation at Sunnybank Plaza Dental, we'll take a series of photographs and scans to evaluate your oral anatomy and health needs. From there, we'll discuss your concerns, goals, timeline and budget. We'll talk you through each of the options available so that you can make a plan that fits your lifestyle.
Do You Qualify for Implants?
Request a new patient or dental implant exam today to learn more about dental implants Sunnybank!
Schedule Your Consultation Today
Are you due for a dental evaluation? Are you interested in finding out more about dental implants Sunnybank? Contact our team today and book a same-day appointment!
CONTACT US
* Any surgical or invasive procedure carries risks. Before proceeding, you should seek a second opinion from an appropriately qualified health practitioner.

Dental Implants Sunnybank, MacGregor, Eight Mile Plains, Robertson, Sunnybank Hills QLD | (07) 3344 6282